External Products
USB2 devices from the world's largest manufacturer of TV tuners.
Windows Media Centre Remote Control with USB Receiver
Windows Media Centre Certified Remote Control Kit
| | |
| --- | --- |
| Brand: | Hauppauge |
| Code: | HMCEREMOTE |
| Warranty: | 2 Years |
| Platform: | Windows |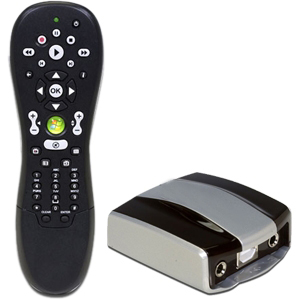 The Hauppauge Media Center Remote control kit can be used to control Windows Media Center's functions and/or Xbox 360
If you have a satellite or cable TV set-top box, the included Media Center Hauppauge IR transmitter can be used to change channels from within Media Center itself, enabling you to schedule and record your favourite TV shows all from the comfort of your sofa! The Hauppauge Windows 7 Media remote control Kit can be used for your Xbox 360 too! Play DVD movies, music and more on your Xbox 360, plus control your Windows 7 Media Center PC with the same Hauppauge remote control. Included in the box is a Microsoft Media Center certified infra-red remote control, USB receiver, two AA batteries and a one metre IR transmitter cable.
Hauppauge Broadway
A brand new way to watch live TV on your iPhone and iPad (and other Android devices) – at home or around the world!
| | |
| --- | --- |
| Brand: | Hauppauge |
| Code: | BROADWAY |
| Warranty: | 2 Years |
| Platform: | Windows & MAC |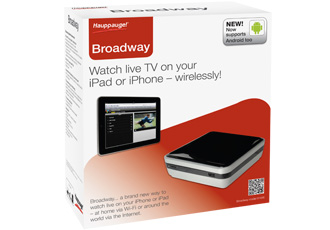 Watch live TV on your iPad* at home
iPad users can watch their favourite TV programs live on their iPad, anywhere in the home: in the kitchen, in the garden, at the pool. Any program which they can watch on their TV set, such as live prime time TV programs and sports events, can be transmitted from Broadway to an iPad throughout the home. With Broadway, you'll find the iPad will become the #1 way to watch live TV! Broadway also works with Android phones and tablets plus the iPod touch, PC and Mac. Broadway sends live TV to non-Apple mobile devices using Flash. Broadway determines which device it is sending video to and changes the video format depending on the device type.
Do you travel and want to be able to see your favourite TV programs from home?
Are you often abroad and don't want to miss your favourite TV shows or sport events? Thanks to Broadway, you can stream your home TV programs en route to your iPad or iPhone via a wireless data network or Wi-Fi wherever you are in the world.
Are you a mobile Mac or PC laptop user?
Imagine using your PC or Mac to surf the net and watch TV at the same time, anywhere in the world! With Broadway, you can now watch TV wherever you have a Wi-Fi connection, in the home or around the world!
Want to watch your home security camera, anywhere in the world?
Simply connect the A/V input on Broadway to a security camera, and then on your iPad you can switch between live TV and your security camera. Watch your security video on your mobile device, either over Wi-Fi or over the Internet!
Broadway set-up is as easy as 1-2-3:
Connect your TV source to Broadway: cable TV, satellite set top box or roof top antenna.
Connect Broadway to your home router (Wi-Fi or wired)
Open a browser on your Apple/Win or Android device and type in "http://distan.tv"
The distan.tv server makes the setup of Broadway a snap! You can now scan for TV channels and set up an Internet connection to Broadway.
Technically speaking:
Broadway is a networked TV receiver which features built-in dual TV tuners and set top box connections, a high definition H.264 compressor and a network connection with support for Ethernet and Wi-Fi using 802.11B or 802.11n. Broadway converts and compresses the live TV signal to an Apple compatible H.264 video format (or Flash when transmitting to a Mac, PC or an Android phone) and streams it wirelessly to Apple® mobile devices via a home router. The Broadway router connection can be Wi-Fi or Ethernet.
Use 2 or more Hauppauge Broadways units on your network for 4,6 or more tuners!
Connections:
Antenna / Cable TV connector (dual tuner built in)
S-Video connector
Composite video (RCA)
Stereo audio line in (2 x RCA)
100BaseT Ethernet
USB 2.0 (3x; for future applications)
Power Supply 12V max. 2A
IR blaster connector